65 AC Cobra (B&B Body) – getting a new TKO-600 Transmission

93 Mustang in for a complete body-swap once its painted.  All wiring, interior, and 5.0 Turbo drivetrain will be installed from a donor car.

92 Mustang 5.0 Turbo, the Donor car.

79 Firebird – Turning into a NASA/SCCA racecar



64 Fairlaine arrived for some cosmetic upgrades


67 Coupe in for a full restoration and freshly painted – Do you like the color? It's 2019 Ford Mustang Velocity Blue


93 GT in for electrical short issue and various upgrades/repairs


EPAS conversion for a 68 Mustang


Red 66 Convertible in for a full assembly


White/blue 68 Coupe 289


Our new location!!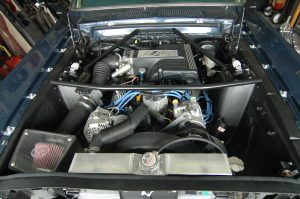 EFI conversion on 67 convertible